EN KJOLE, JEG HAVDE JAGTET LÆNGE
A DRESS I HAD BEEN HUNTING FOR FOR AGES
Af en med vinylhoved at være er denne dukke meget fin. Det er lige før spytkrøllen i pandehåret er intakt. Øjne og gåmekanisme virker også. Men kjolen er hovedsagen! Den har jeg ledt efter nogle år, og så er man jo taknemmelig, når det lykkes at finde den. Den findes kun i et svensk katalog, har i 1958 nummeret 1253. Hårsløjfen er nylavet.
---
One of the nicest vinyl-headed dolls I've seen, her curly bangs are still separated from the rest of the hair, eyes and walker also work, but the really great thing about her is her dress. I had been hunting for it for some years, so imagine how excited I was to finally get hold of it! #1253 in the Swedish catalog from 1958. Her hairbow is a replacement.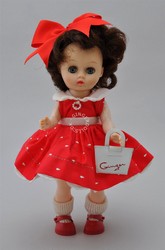 (Ses bedst i Firefox/Best viewed with Firefox - 1024 x 768)
Til toppen/Top of page
Opdateret d. 20.12.2011

InternetExplorer6 og tidligere er ikke understøttet/IE6 and earlier not supported