IGEN EN MED MALEDE ØJENVIPPER
YET ANOTHER ONE WITH PAINTED EYELASHES
En ældre klon (formodentlig) med malede øjenvipper. Håret synes aldrig at have været redt, der er en smule gåfunktion tilbage, men øjnene er altid åbne. Ansigtsfarverne er som fra fabrikkens hånd. Hun har fået nr. 225 fra 1956 på - skoene er ikke originale, men en samtidig kopivare, båndet om livet er måske originalt (det er dog ikke stift, som de oftest er blevet med årene) - hårsløjfen har jeg selvfølgelig lavet til hende.
---
An old PL clone, I presume. Her hair never seems to have been combed, her facial colours are great, she even still walks a bit. But her eyes are stuck open. I dressed her in #225 from 1956. The waist ribbon is at least not quite new, but I don't know if it is quite vintage, either - it has not gone stiff like most of them have. Her shoes are vintage replacement shoes, and I made her a new hairbow.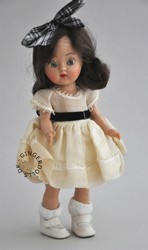 (Ses bedst i Firefox/Best viewed with Firefox - 1024 x 768)
Til toppen/Top of page
Opdateret d. 29.5.2012

InternetExplorer6 og tidligere er ikke understøttet/IE6 and earlier not supported