COWBOY KLON
COWBOY CLONE
Dukken her lader til at være helt original - bortset fra, at hun manglede en hat; jeg har siden skaffet hende en erstatning for den. Både Randi og Ninette havde en dragt som denne, så det er ikke til at sige, hvem af dem hun er.
Øjnene sidder næsten fast, og hun går ikke længere, men hun har hårnet på, så håret sidder perfekt. Dragten havde sin oprindelige halsklud, men den stjal jeg til en af Gingers dragter; også bæltet var der, men den desværre tomme skede ser lidt hjemmelavet ud.
---
This doll seems to be all original except for having a replaced hat and missing her original kerchief; I stole that from her to use with one of my Ginger outfits. This cowboy outfit is shown in both Randi's and Ninette's catalogs, so there is no telling who she is.
Her eyes are practically stuck open, she no longer walks, but she can boast of having a near perfect hair-do, because her wig is protected by a hair net.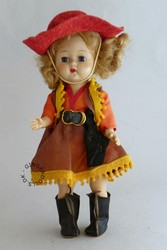 (Ses bedst i Firefox/Best viewed with Firefox - 1024 x 768)
Til toppen/Top of page
Opdateret d. 20.12.2011

InternetExplorer6 og tidligere er ikke understøttet/IE6 and earlier not supported