MALEDE ØJNE OG UMULIGT HÅR
PAINTED EYES AND DIFFICULT HAIR
Tidlig Ginger? Randi? Ninette? Som sædvanlig ikke til at sige. Håret er som på de fleste af hendes type ret umuligt, kan ikke holde på krøl, men det er der i hvert fald stadig alt sammen; for at få lidt styr på det har jeg prøvet at give hende flip-frisure. Hun har de mest utroligt blå øjne - det er nok det bedste ved hende. Øjnene sidder selvfølgelig fast, og hun går heller ikke mere. Kjolen er nr. 112 fra 1955, hårsløjfen er nok en original Ginny, og båndet om livet er nyt.
---
An early Ginger? Randi? Ninette? Impossible to say. Her hair is extremely unmanageable, it won't hold the curl, but at least there is plenty of it, so I tried to do a flip on her. Her eyes, stuck open, are the prettiest blue I ever saw in a Ginger. Her walker no longer works. Her dress is #112 from 1955, the waist ribbon is a replacement, but her hairbow might be a vintage Ginny bow.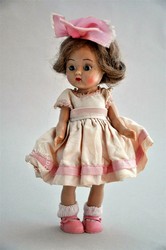 (Ses bedst i Firefox/Best viewed with Firefox - 1024 x 768)
Til toppen/Top of page
Opdateret d. 7.1.2012

InternetExplorer6 og tidligere er ikke understøttet/IE6 and earlier not supported