KLON MÆRKET WI
A CLONE STAMPED WI
Dukken her er stemplet WI i nakken og således tilsyneladende fra Commonwealth, der lader til at have været i tæt samarbejde med Cosmopolitan. En smuk dukke, som også et par af de fashiondolls, jeg har fra dette firma; hendes øjne virker, og hun går også. Jeg går stærkt ud fra, at tøj og sko er hendes originale; tøjet er så ikke af specielt fin kvalitet: kjolens kant er ikke sømmet, og underbukserne er bare noget tricotstrik helt uden kantbearbejdning, så hvad det angår ligger hun milevidt fra Cosmopolitans dukker.
---
This doll bears the stamp WI on her neck, so she would seem to be a produce of Commonwealth, Cosmopolitan's close associate (although we do not know quite how, when and so on). She's a very pretty doll, just like two of the
WI fashion dolls
I have, her eyes work, and she still walks. But her clothing - which I absolutely believe to be original to her - is of inferior quality, the dress has no finished seams, and her undies are just a piece of nylon knit with no finished seams, either.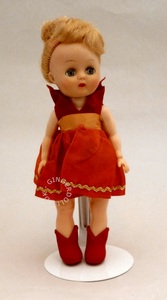 Til toppen/Top of page
Opdateret d. 5.3.2013
InternetExplorer6 og tidligere er ikke understøttet/IE6 and earlier not supported