EN MUFFIE MED GINGER-KROP
A MUFFIE WITH GINGER'S BODY
Som kort omtalt på siden med Muffie-dukker er der blandt samlere snak om noget, man kalder Muffie-mysteriet. Jeg ved ikke meget om det, og den smule, jeg har fundet ud af, er nævnt under Muffie, så det vil jeg ikke gentage her.
Dette er en af de mystiske Muffie-dukker ligesom dukken ved siden af. Hun er mærket NancyAnn i nakken, omend ganske svagt, men kroppen er helt tydeligt Gingers. Fin gåfunktion, sløve øjne. Hun har Muffie-tøj på - kjole, skørt, underbukser og sko.
---
On my Muffie page I mention the Muffie Mystery. I don't know much about it, and the little I have learned is in
my Muffie page
, so I'm not going to repeat it here.
This is one of the mystery dolls (as is the doll to the right of her); her neck is very faintly marked NancyAnn, but her body without a doubt is Ginger's. I dressed her in a Muffie dress, slip, pants and shoes, she's a walker with lazy eyes. Not much more to say about her.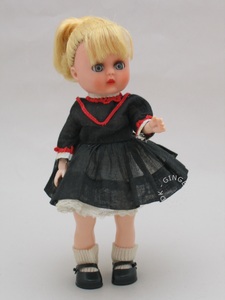 Til toppen/Top of page
InternetExplorer6 og tidligere er ikke understøttet/IE6 and earlier not supported