MØRKE KRØLLER DENNE GANG
GINGER WITH DARK BROWN CURLS
En Ginger med medium øjne og en paryk med masser af mørke krøller. Kunne være en Terri Lee, det er jeg nu ikke sikker på - måske Patty Playpal? Øjnene skal have hjælp, og gåfunktionen er for slidt til at virke.
Hendes kjole er mærket (det er nr. 1252 fra 1958 udgaven af det svenske katalog), hun mangler sin vest og sin hat.
---
She looks medium-eyed to me - the eyes are lazy. So is her walker, but she's a pretty little doll anyway. In spite of all her curls she's hardly a Terri Lee dukke, she's more likely Patty Playpal.
The dress is a tagged Cosmopolitan (#1252 in the 1958 Swedish booklet), but I have neither the hat nor the vest for this outfit.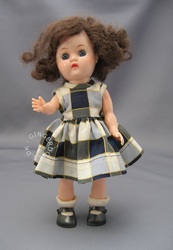 Til toppen/Top of page
Opdateret d. 1.3.2014

InternetExplorer6 og tidligere er ikke understøttet/IE6 and earlier not supported