GINGER MED DOBBELTE ØJENVIPPER
GINGER WITH DOUBLE EYELASHES
Her er så Ginger med de dobbelte øjenvipper - hun er nævnt på siden med nyheder (2009). Jeg har tænkt lidt over forklaringen på hendes to lag øjenvipper; hvis hun virkelig var en overgangsmodel, burde hun vel have haft små øjne, som de første dukker med støbte øjenvipper havde? Det er lidt mystisk. Måske det alligevel bare er en tidligere ejer, der har malet de ekstra øjenvipper på hende?
Øjnene virker ikke af sig selv, gåmekanismen er også meget slidt, og der er ikke meget rødt på kinderne. Men hun er da speciel.
Hun er her blevet klædt i en tidlig Cosmopolitan todelt kjole med matchende bukser; kun 'matchende', ikke 'tilhørende', for kjolen findes i såvel bomuld som en satinagtig variant, og selv om jeg har begge, har jeg jeg kun bomuldbukser, desværre. Sættet er fra 1955 og har nr. 222.
---
This doll is a bit of a mystery. I have mentioned her on my
News page (2009)
, but later it occurred to me that if indeed she was some sort of transitional doll, she would probably have small eyes? The first Gingers with molded lashes had small eyes. But on the other hand, the ones with painted lashes had larger eyes than that, so the new eyes would have been too small? I cannot figure it out. The easy solution is that a former owner gave her the extra lashes after all.
Anyway, her dress is an early tagged Cosmopolitan two-piece, with almost matching bloomers and original socks and shoes. #222 from 1955; this outfit seems to have been available in cotton as well as in taffeta - I have both, this one is taffeta, but I only have cotton bloomers.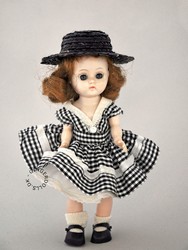 Til toppen/Top of page
Opdateret d. 7.1.2012

InternetExplorer6 og tidligere er ikke understøttet/IE6 and earlier not supported