GINGER MED MALEDE ØJENVIPPER - ELLER NINETTE?
PAINTED LASH GINGER - OR MAYBE NINETTE?
Hun har så langt hår, at det kan flettes, og det er nok også hendes oprindelige frisure. Parykken er ikke original for Ginger, så enten er den skiftet ud, eller også er hun Ninette eller en anden klon. Sød er hun under alle omstændigheder. Hendes ansigt er meget fint, men øjnene kan ikke lukkes. Hovedet kan dreje hele vejen rundt, så hun har nok været en gådukke engang.
Hendes kjole er sandsynligvis Randis eller Ninettes efter trykknappen at dømme (den samme som i Gingers tøj) - deres tøj var ikke mærket.
---
Her hair is long and full, meant to be braided, I think. The wig does not look original to Ginger, so she is probably a Ninette or similar. She has the cutest face, only her eyes don't close anymore. She once was a walker, I believe - now her head wil turn all the way round.
Her dress probably was made for Randi or Ninette, it has the Greek key unpainted snap.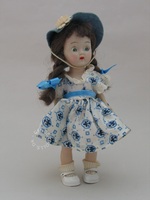 Til toppen/Top of page
Opdateret d. 21.12.2011

InternetExplorer6 og tidligere er ikke understøttet/IE6 and earlier not supported