GINGER SOM TYREFÆGTER
TOREADOR GINGER
Jeg er ret sikker på, denne Ginger er en klon og således ikke den dukke, der oprindelig er solgt i kostumet, men sådan her fik jeg hende, og hun er køn nok til at fortjene det tøj, jeg længe havde ønsket mig.
Som sagt er dette et tyrefægterkostume, næsten komplet, jeg har bare selv måttet lave et mavebælte som manglede. Dragten fandtes i de amerikanske kataloger for 1954 og 1955 med nummeret 556.
---
I am rather certain this Ginger is a clone - but what a pretty one. So I'll leave her to wear this outfit that was on my list of desirable outfits for a long time before I finally got it. #556 from the US booklets 1954 and 1955.
The outfit is almost complete, missing was just the red scarf around her waist - I had to make a replica of that.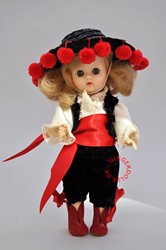 Til toppen/Top of page
Opdateret d. 7.1.2012

InternetExplorer6 og tidligere er ikke understøttet/IE6 and earlier not supported