GINGER I SPADSEREDRAGT
GINGER IN A NICE SUIT
Ginger er 'ægte', og tøjet er originalt, nr. 441 fra 1954, her i versionen med rødt tilbehør. Dragten har tag, og de tilhørende 'fat pants' i blåt ser man ikke så tit. Da jeg købte hende, fulgte der oven i købet et originalt Ginger-stativ med, så nu har jeg to af dem.
Ginger er en smule bleg i det, hun går ikke for godt, øjnene skal også have hjælp, men hendes fletninger er fine. Hun er nok værd at eje.
For sjov sætter jeg de to blå dragte ved siden af hinanden i oversigten over alle Ginger-dukkerne.
---
This is the 'real' Ginger, I am rather sure. Her facial coloring is quite pale, but her wig is in very good shape. She hardly walks anymore, and her eyes need help, but she's still a great doll.
Her outfit is tagged and, even better, complete, except that the shoes ought to be the side- or centre-snap cloth-like type. #441 from 1954. And she even came with an original Ginger stand.
Just for fun I place the two dolls in navy two-piece suits side by side in my
Ginger dolls page
.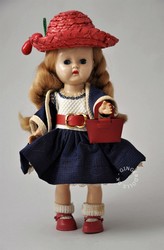 Til toppen/Top of page
Opdateret d. 6.9.2013

InternetExplorer6 og tidligere er ikke understøttet/IE6 and earlier not supported