GINGER MED STORT HÅR
GINGER WITH A VERY VOLUMINOUS WIG
Ginger har desværre brækket nakken, så hovedet kan dreje hele vejen rundt. Men ellers er hun flot, med øjne, der virker, og fin ansigtsfarve. Parykken forekommer mig noget for fyldig til at være en original Cosmopolitan paryk, men flot er den jo. Hendes kjole er en af de mere sjældne, og den har tag; det er nr. 1223 fra det svenske NK katalog fra 1958.
---
Ginger's walker is broken, so her head will turn all the way round. Still, even so she's a beautiful doll, with splendid facial color and an amazing wig. It does not look like a traditional Cosmopolitan wig, but who knows? Her dress is tagged, one of the rarer ones, I believe: #1223 from the Swedish NK booklet from 1958.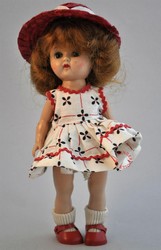 Til toppen/Top of page
Opdateret d. 21.12.2011

InternetExplorer6 og tidligere er ikke understøttet/IE6 and earlier not supported