ENDNU EN DUKKE KØBT PGA. EN USÆDVANLIG PARYK
ANOTHER DOLL BOUGHT BECAUSE OF HER UNUSUAL WIG
Dukken er med stor sandsynlighed en klon. Jeg har endnu ikke set en paryk som hendes, og desuden har hun plirrende øjne, hvor de flestes øjne ellers behøver mere eller mindre hjælp. Hun er også stadig en gådukke. Hun er meget fin, og tøjet er et komplet sæt (jeg er dog ikke sikker på, stråhatten er lige præcis den, der hører til, men sort skal den i hvert fald være): Nr. 221 fra 1956.
---
Most definitely a clone! The wig is with a full cap, but the stitching is very unusual (as is the colour!). Furthermore, her eyes are fluttering, quite contrary to the usual stuck eyes of 'real' Gingers and clones. I think she's very beautiful! Her outfit is complete - but I am not sure if her black straw hat is just the one original to the outfit (#221 from the US 1956 booklet).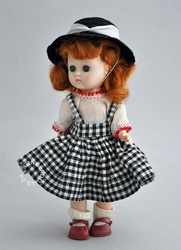 Til toppen/Top of page
Opdateret d. 21.12.2011

InternetExplorer6 og tidligere er ikke understøttet/IE6 and earlier not supported