PLATINBLONDT HÅR OG DYBBLÅ ØJNE
A PLATINUM BLONDE WITH DEEP BLUE EYES
Hun er nok en klon, ud fra håret at dømme, men utroligt fin. Hun har alt sit hår endnu, fine røde kinder, og øjnene har bevaret deres helt dybblå farve. De fungerer ikke uden hjælp, men til gengæld kan hun stadig gå. Kjolen er nr. 115 fra 1955, under den har hun lyserøde 'bloomers', og sløjfen i håret er formodentlig original, som også sko og strømper.
---
This is probably a clone, but so beautiful. Her hair is all there, her cheeks are nice and red, and her large eyes are a deeper blue than any I have seen before. She still walks, but her eyes need help. Her dress is #115 from 1955, and she has pink bloomers, socks and shoes. I even believe the hair bow to be original. A very pretty doll!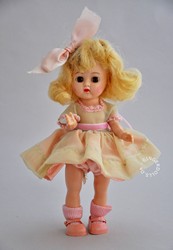 Til toppen/Top of page
Opdateret d. 7.1.2012

InternetExplorer6 og tidligere er ikke understøttet/IE6 and earlier not supported