VILLA GINGER
Sådan kom mit fine hus til at se ud / This is what my lovely house looks like now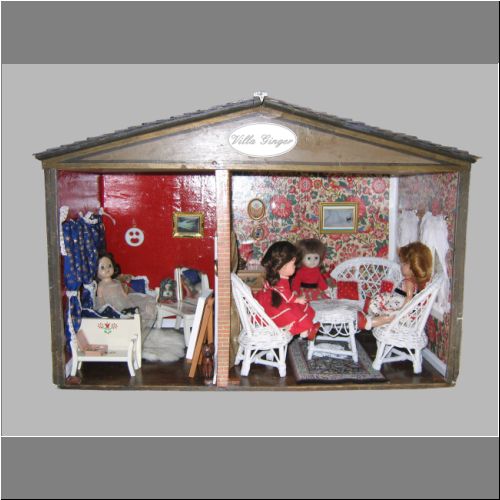 Tagets farve var meget smuk med sine chatteringer, men for fersk til murstenene, syntes jeg, så jeg blandede noget at farve dem med, så det i stedet kunne ligne et skifertag.

---

I found the colour of the shingles, their varying shades very beautiful, but too anaemic with the colour of the bricks, so I mixed a sort of paint to make the roof darker and - hopefully - resemble a slate roof.


Jeg købte et sæt gardiner til stuen, de er lige præcis lange nok. På dette billede kan man skimte stjernehimlen i loftet.

---

I bought the lace curtains for the living room; even if on the short side, they just make it. In this picture you can catch a glimpse of the starry ceiling.
Til soveværelset lavede jeg gardiner af noget bånd, jeg havde - med nattehimmel på! De matcher puderne.

---

For the bedroom I made curtains out of some ribbon I had - very fittingly again a starlit sky. The cushions were made to match, of course.
Jeg købte en ekstra gardinstang til portiere ved døren mellem værelserne og syede portieren af velour.

---

I bought an extra curtain rod for the connecting door and made a door curtain of velour.
Jeg købte også en del billedrammer. I dem har jeg sat nedfotograferinger af billeder af en ungdomsven til mig, en tjekkiskfødt forfatter og illustrator af primært børnebøger, nu bosat i USA; jeg har selv et værelse med mange billeder af ham på væggen (faktisk det værelse, mine dukker 'bor' i).

---

I also bought several frames and downscaled some pictures made by a friend of my youth, a Czech born writer and illustrator of primarily children's books, now resident in the States. I myself have a room with many (original) drawings of his on the wall (in fact the same room my dolls are in).
Det lille billede på toiletbordet er, så vidt jeg husker, af min far eller hans bror. Rammen er antik.

---

The frame of the small picture on the dressing table is antique; the picture is, as far as I remember, of my father or possibly his brother.
De små puder er selvfølgelig også hjemmelavede.

---

The cushions are of course of my own making.
Det eneste indbo, der var i huset, da jeg fik det, er spejlet over døren. Men det er til gengæld også vældigt fint! Gingers seng og toiletmøbel havde jeg parat, den lille kommode havde jeg på et tidspunkt købt på qxl, og kurvemøblerne er fra min datters Barbie-periode, nu blev de bare malet hvide.

---

The only thing original to the house is the mirror above the door. Such a fine item. Ginger's bed and dressing table were already in my possession, the dresser I bought from our Danish equivalent of ebay at some point, and the wicker furniture is from my daughter's Barbie period, I just painted them white to brighten up the room a bit.
Det har været virkeligt sjovt arbejde!
---
Working on Villa Ginger has been so much fun!
SIDSTE NYT - LATEST NEWS
Det var sjovt, ja bestemt! Men nu har jeg været i gang igen, i hvert fald med møbleringen, for jeg fik jo fat på bord og stole samt en sofa/bænk til Ginger. Det måtte jeg da prøve at have ind i huset. Det sørgelige er, at jeg synes sådan set, kurvemøblerne passede bedre - hvad synes du? Se her
---
It was indeed great fun, but even so, I've been at it again. Just the furniture, mind. I got hold of a sofa/bench, chairs and a table for Ginger, so of course I had to see what my Villa Ginger looked like with that furniture. Well, sadly I must confess I find the wicker-work furniture matches the general look of the house better. What do you think - take a look
here
.
Til toppen/Top of page
Opdateret d. 20.12.2011

InternetExplorer6 og tidligere er ikke understøttet/IE6 and earlier not supported