CHA CHA HEEL GINGER - ET MISFOSTER
CHA CHA HEEL GINGER - A TOTAL MISUNDERSTANDING?
Nu har jeg den rigtige Cha-Cha Heel Ginger! Efter at have haft to af slagsen med Pam hoved på Ginger krop har jeg nu skaffet mig den 'rigtige' vare. Det er hun bare ikke blevet kønnere af. Jeg har hende kun som en kuriositet!
Jeg betragter hende stadig som et stort fejlgreb, men det hjælper at se hende med de originale sko. Hun har et tredelt sæt på med mærke, nr. 883 fra 1955, der således er ældre end dukken. Men dette sæt har den fordel, at det skjuler hendes mærkværdige ben.
---
I have previously had two Pam/Gingers, the Pam version of the Cha Cha Heel Ginger. Although I do not in any way find her pretty or even pleasing, I do like to own her - just for the fun of it. And anyway, seeing her wearing her original shoes does help. Her 3-piece outfit is tagged, it is #883 from 1955 (accordingly the doll is really too 'modern' to wear it, but it nicely hides her awkward legs).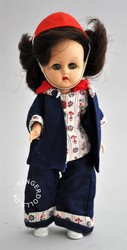 Her er den Pam/Ginger, der har måttet vige pladsen for den 'rigtige' udgave:
---
Here is the Pam/Ginger that has had to give up her place in my doll closet to make room for the 'real thing':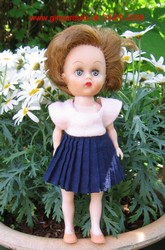 Til toppen/Top of page
Opdateret d. 6.9.2013

InternetExplorer6 og tidligere er ikke understøttet/IE6 and earlier not supported