GINGER MED VINYLHOVED OG GRØNT HÅR
VINYL HEAD GINGER WITH GREEN HAIR
Køn er hun mildest talt ikke! Øjnene har det med at blive lidt skelende og ligge lidt dybt - en almindelig fejl hos de første Gingere med vinylhoved. Her har jeg så begået lidt helligbrøde og givet dem en klat sekundlim, mens jeg holdt dem på plads. Nu kan hun ikke lukke øjnene, men er til gengæld til at holde ud at se på. Men håret er helt specielt, jeg har ikke engang fundet det omtalt i Stover's bog, så hun er nok noget af en sjældenhed, omend ikke en af de eftertragtede.
Hun har fået kjole nr. 116 fra 1955 på - hendes søster med blåt hår kan ses her.
---
This is not one of your pretty Ginger dolls! According to Stover's book the early vinyl headed Gingers were very prone to suffer from crosseyedness and sunken eyes - and she was suffering from both. So I must confess to having made her eyes stay in place with the help of glue; she's probably worth less now, but much nicer to look at. But her hair is what makes her stand out - I am not even sure a doll like this is mentioned in Stover's book!
I dressed her in outfit #116 from 1955 - with matching fat pants. I have later found her
a blue-haired sister
.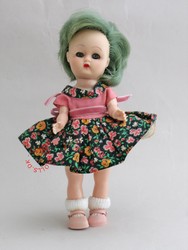 Til toppen/Top of page
Opdateret d. 19.4.2012

InternetExplorer6 og tidligere er ikke understøttet/IE6 and earlier not supported