VIST EN KLON MED SPECIEL HÅRFARVE
A PRESUMED CLONE WITH A SPECIAL HAIR COLOUR
Parykken ligner ikke helt en Cosmo-paryk, men ansigtet ligner godt nok. Ginger eller klon? Ikke til at sige. Hendes øjne virker fint, det samme kan ikke siges om gåmekanismen. Kjolen er nr. 444 fra 1957 med korrekt forklæde. Hatten var jeg længe om at finde, men endelig lykkedes det på tradera. Den har ikke det orange bånd og ditto blomster, som vises i Gingers Study Set, men jeg kan ikke engang se spor af det heller, så måske ikke alle hatte var udsmykkede?
---
This doll's wig does not look quite original. Her face, however, looks very Cosmopolitan. Clone or rewigged? Impossible to say.
Her walker is more than lazy, but her eyes work great. Her dress is #444 from 1957, with the correct apron. The hat took me ages to find, but finally I managed to get it off tradera. It does not have the orange ribbon and flowers shown in Ginger's Study Set, but maybe not all hats were decorated? At least I see no signs that the hat ever had a decoration sewn onto it.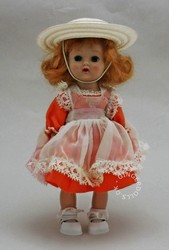 Til toppen/Top of page
Opdateret d. 18.4.2012

InternetExplorer6 og tidligere er ikke understøttet/IE6 and earlier not supported