NU MANGLER HUN IKKE SIN HAT MERE
THE HAT MISSING FROM THIS OUTFIT IS NO LONGER MISSING
Jeg havde haft kjolen længe, så fik jeg langt om længe fat i vesten (med en god vens hjælp). Det kan være noget af et tålmodighedsarbejde at stykke disse sæt tøj sammen, men det er sjovt, når det lykkes! Det er nr. 883 fra 1957. Jeg har samme sæt til Miss Ginger - og hun havde i starten den ene hat, jeg havde fundet! Da jeg så fandt hat nr. 2, kunne jeg se, at den nye måtte være Miss Gingers, så Ginger har fået sin tilbage.
Dukken selv er også en af de bedre - flotte fletninger, de små øjne, og hun går ovenikøbet.
---
A generous friend showed me the lot on ebay that had the vest I had been wanting for so long for this dress and the similar dress I have for Miss Ginger. And actually there were two vests in the lot! So now the sisters can really pose in their cute outfits. #883 from 1957. I only had one hat - Miss Ginger was wearing that one, until I found another hat, which turned out to be bigger and accordingly Miss Ginger's own hat. So Ginger had her hat back!
The doll is a true cutie with fine braids, delicious small eyes and a walker that works.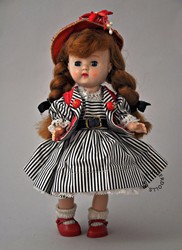 Til toppen/Top of page
Opdateret d. 21.12.2011

InternetExplorer6 og tidligere er ikke understøttet/IE6 and earlier not supported