HOLLYWOOD-DUKKERNE
HOLLYWOOD DOLLS
Der er også noget, der hedder Hollywood-dukken fra Toylands serien. Deres skønhed er mildest talt ikke specielt holdbar, så jeg har været igennem et par stykker, inden jeg fik tre, som stadig er rimelige at se på.
Hollywood-dukken er mærket, men var nu også nem at kende uden mærke pga. dens mange kendetegn: Det krøllede dynel-hår i lidt opsat frisure, de tynde ben og de store hænder. Jeg har givet mine tre dukker lidt ens kjoler på; ingen af kjolerne er mærket, og der er tre forskellige typer tryklås. Jeg kunne forestille mig, den røde er fra Virga, men ellers?
---
The beauty of the Hollywood doll is apt to fade rather badly - face paint disappearing, hair getting tangled, unruly, generally suffering play wear less graciously. I went through a couple of dolls before ending up with the three dolls I now have. I dressed them in somewhat similar dresses, all factory made, but probably from different manufacturers. The red one might be Virga, it has the doughnut snap; the blue one has a square machine-sewn snap and might just be from Madame Alexander; the last one I do not recognize at all.
Producenten af Hollywood dukkerne lavede flere andre typer, bl.a. ganske små babydukker i store dåbskjoler eller hvad det nu var. Sådan en har jeg fundet noget billigere uden tøj, men så har jeg hæklet den en kjole. Dukken er ca. 10-11 cm høj, og sjældent har jeg set så grim og alligevel livagtig en babydukke. Den er af hård plast og har soveøjne.
---
The Hollywood Doll Company made quite a lot of other dolls, among them a tiny baby doll. I have seen it dressed in extravagant clothing - maybe a Christening outfit? These dolls are quite expensive, but I found a nude, cheaper one and simply could not resist it! It's around 4 inches long and SO ugly!
Her ses så et eksempel på, hvordan en Hollywood-dukke kunne se ud oprindelig.
---
This is an example of what a Hollywood doll would look like originally.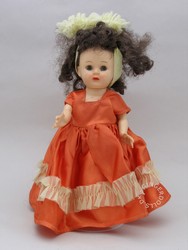 (Ses bedst i Firefox/Best viewed with Firefox - 1024 x 768)
Til toppen/Top of page
Opdateret d. 6.6.2014

InternetExplorer6 og tidligere er ikke understøttet/IE6 and earlier not supported