INDIANSK DUKKE
AMERICAN INDIAN DOLL
Da jeg købte denne dukke, havde hun kjole på:
---
When I bought this doll, she was wearing a satin dress: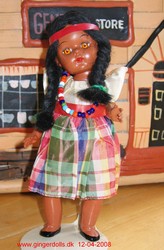 Jeg anså den ikke for helt original, så jeg var glad, da jeg fandt et originalt sæt tøj i vaskeskind til hende. Jeg er ikke sikker på, jeg har fået anbragt smådelene rigtigt, men det kan jo altid rettes, det hele er kun næstet på hende. Især hendes oppakning er meget fin! Men jeg har faktisk siden fundet ud af, at den kjole var hendes originale påklædning, jeg har dog foreløbig ladet hende beholde det andet tøj på.
Selve dukken er som alle reklame- og turistdukker vanskelig at bestemme, men jeg tror, det er en tidlig dukke fra PMA, dvs. en særudgave af Joanie Pigtails.
---
I was not at all certain the dress was original to the doll, so I was very happy when I found this pants outfit for her. It's fastened with a few stitches, and I am not sure I placed all the tiny bits right, but I'll have to make my corrections as I get wiser.
The doll herself is difficult to place, but I rather think she's an early PMA Joanie Pigtails (tourist edition). And I did find out that her dress is in fact original; however, I put the dress in my stash and let her keep this leather outfit on.
Til toppen/Top of page
Opdateret d. 8.10.2012

InternetExplorer6 og tidligere er ikke understøttet/IE6 and earlier not supported