BLOND OG BRUNHÅRET MISS ROSEBUD - OG EN HOLLANDSK
BLOND AND BRUNETTE MISS ROSEBUD - AND A DUTCH ONE
Da jeg fik mine Miss Rosebud-dukker, måtte jeg låne tøj til dem fra Ginger, men så begyndte jeg at søge efter lidt andet dukketøj og har da også siden kunnet give dem mere europæisk tøj på, omend næppe originalt Rosebud, hvis det findes.
---
When I first got my Miss Rosebuds, I had to dress them in Ginger's clothes, and I have since hunted around a bit for more local clothing for them and did find some, although not original Rosebud items - I wouldn't recognize an original outfit if I saw one.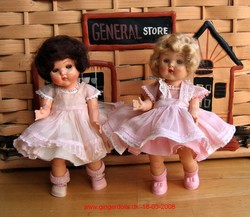 Jeg tror nok, blondinens kjole er fra Grethes Dukketøj, brunettens kan jeg ikke umiddelbart sige noget om, men jeg tror, den er engelsk.
---
The blonde's clothes are probably from the Danish manufacturer Grethes Dukketøj (Grethe's Doll's Clothing), the brunette's I have no clue about, but I think the dress is English.
En dag spottede jeg i et stort, blandet lot på ebay denne Miss Rosebud. Hun var i 6 dele og svær at samle igen, da tøjet er syet på hende. Men hun blev så smuk! Et sandt fund, for jeg fik lottet yderst billigt.
---
One day I found a rather large and very varied lot of dolls on ebay. I thought I saw a Dutch Miss Rosebud, all unstrung - and here she is now! She was tough to restring, as her dress is sewn on, but she was well worth the struggle. A beautiful specimen - and very cheap!
Til toppen/Top of page
Opdateret d. 17.4.2012

InternetExplorer6 og tidligere er ikke understøttet/IE6 and earlier not supported