In English
GINGER, MISS ROSEBUD OG ANDRE DUKKER I SVENSKE EGNSDRAGTER

---

GINGER, MISS ROSEBUD AND OTHER DOLLS IN SWEDISH REGIONAL COSTUMES
Ligesom Rosebud-dukkerne blev solgt uden tøj til i hvert fald Danmark og Sverige, lader det til, at også Ginger blev det, og så blev hun klædt på i nationaldragt i sit nye land (kun i Sverige, vi havde hende jo desværre slet ikke i Danmark). Nogle har vist ment, hun blev solgt i de svenske nationaldragter i USA, det mangler der sikker oplysning om, og jeg tror ikke på det. De eksemplarer, der er fundet i USA, har sikkert været hjembragt fra Sverige.
I hvert fald havde en svensk ven til mig denne smukke dukke (den øverste; ja, hun har solgt den nu). Som det ses på det ene billede, er der et mærke på dragten, der angiver egn (Småland) og velsagtens fabrikant, JW. Dette mærke har jeg siden set på flere dukker, bl.a. en der blev solgt på ebay, men blev for dyr for mig. De billeder ses nedenunder; i dette tilfælde er dragten fra Rättvik.
Endelig er der billeder, der viser den dukke, en amerikansk ven har i original æske, hvor der ganske svagt skimtes stemplet Leksand. Det taler for, at dukkerne blev importeret til Sverige i æsker, men (formodentlig) kun iført underbukser, sko og strømper, og så blev der syet kostumer til dem hos firmaet J.W., der så stemplede æsken med den pågældende dragts stempel. Det interessante er, at denne Leksand-dragt har en trykknap, der ikke er magen til Gingers sædvanlige, men faktisk er den samme som i det paralleltøj, der blev solgt i NK, under mærket Peggy. Dette understøtter da yderligere tanken om, at Gingers nationaldragter blev syet i Sverige.
Synes man, man behøver mere dokumentation, er der i bogen 'Small dolls of the 40s and 50s' af Carol J. Stover i afsnittet om engelske dukker billede af såvel en Amanda Jane Jinx som en Roddy i dragter med J.W.'s mærke. Og jeg har for nylig fået en anden dukke med JW tøj på, som ses længere nede på siden - her er dukken en Skildpadde-dukke (Schildkröt 19), egnen Vingåker. Jeg vil gætte på, hun er tidligere end Ginger.
---
The Rosebud dolls were sold in large numbers to at least Denmark and Sweden, but in the nude, only to be dressed in our national costumes. It might seem the same goes for Ginger, except that as we did not know her in Denmark, only Sweden can boast of these quite special Ginger dolls. It seems to have been a general belief that these Ginger dolls are original, i.e. from the US, but from what I have learned, I am convinced they were dressed in Sweden. So Ginger was exported to Sweden in the nude, more or less, and there dressed in locally manufactured outfits. Dolls found in the US in these outfits must have been brought home by tourists or some such thing.
The first doll was owned by a Swedish friend (oh yes, she sold it); she said she bought it on ebay. The dress has a paper tag, giving the region the dress is representing and the maker's name (Småland, J.W., respectively). The next doll was sold recently on ebay (another doll too expensive for me to buy), again we see the paper tag, only this time the region is Rättvik, but the maker still J.W. The last doll is owned by an American friend of mine; this doll has its original box on which - very faintly - the stamp 'Leksand' can still be read. What is further interesting is the snap. This dress has not the original Ginger snap, but the slightly similar one seen on the clone dresses sold in NK under the name of Peggy, maybe as more affordable outfits for Ginger.
All taken together I find this rather clearly indicates that Ginger was exported in her box to Sweden, there to be dressed by the company J.W. that stamped the boxes with the appropriate stamp according to the particular outfit.
Still more documentation is to be found in Carol J. Stover's book 'Small dolls of the 40s and 50s', where in the chapter on English dolls two pictures are found of J.W. outfits - one on an Amanda Jane Jinx, the other on a Roddy. And I recently purchased a doll in a JW outfit from Vingåker - she must be Ginger's predecessor, she's a German Schildkröt doll, marked Schildkröt 19.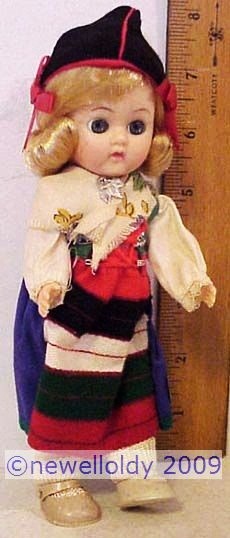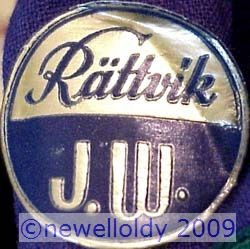 ---
Og her er så mine egne nationaldragter
And here are my own similar outfits
Den svenske Leksand-dragt

---

The Swedish Leksand outfit

Min anden svenske nationaldragt, Rättvik-dragten

---

My other Swedish regional outfit from Rättvik

Jeg fik også på et tidspunkt Småland-dragten, ikke helt magen til den smukke øverst på siden og heller ikke i helt så fin stand, men ganske OK. Der var imidlertid en, der frygteligt gerne ville købe denne dukke af mig, så hun er nu solgt.

---

I also managed to get hold of the Smaaland outfit. Mine was a bit different from the one at the top of the page, not in as nice shape, either, but all right. I have, however, sold it, because I had a very interested potential buyer, so ...

Til gengæld har jeg siden fundet denne Vingåker-Ginger, hvis dragt er en senere udgave af dragten lige nedenunder. Min dragt mangler uldsnoren, og blusen er lidt anderledes - uden den fine krave.

---

But another doll has since taken her place, the Vingåker Ginger. Her outfit is a newer version of the JW dress below, the blouse no longer has its fine collar. This outfit is also missing the woollen string used as closure for the vest.
Dette er en tysk Schildkröt-dukke (mrk. 19) i nationaldragt fra Vingåker, fabrikeret af JW

---

This is the German Schildkröt doll dressed by JW in a Vingåker regional outfit

Jeg har også fået en engelsk Roddy-dukke i svensk nationaldragt - en dreng denne gang

---

I bought an English Roddy doll - and a boy at that - in a Swedish national costume

Igen en Roddy-dukke, denne gang en pige; hun har J.W. dragt på, fra Skåne. Et meget flot eksemplar.

---

One more Roddy doll, a girl dressed in a J.W. outfit from the region of Skåne

Endnu en Roddy-pige, i Leksand-dragt

---

Another Roddy girl, in her Leksand outfit
Der er flere nationaldragter, primært danske, at se på
denne side
, og et par britiske på
min side med engelske dukker
.
---
More international outfits, primarily Danish ones, can be seen on
this page
, and a few British ones on
my page with English dolls
.
Til toppen/Top of page
Opdateret d. 30.04.2016

InternetExplorer6 og tidligere er ikke understøttet/IE6 and earlier not supported