ENDNU ET DUKKEHUS - ANOTHER DOLL HOUSE
Jeg fandt en ny seng, som kunne passe til Ginger, og den var jeg så vild med, at jeg begyndte at se mig om efter endnu et dukkehus, for jeg kunne ikke rigtigt forestille mig at skippe Ginger-møblerne i det første hus. Det lykkedes da også rimeligt hurtigt at finde et, der i hvert fald på visse måder var stort nok. Til gengæld var dets proportioner noget mærkværdige

---
I found a new bed that would fit Ginger, and I was so crazy about this bed that I started to look around for another dollhouse, because I couldn't really imagine substituting Ginger's own furniture with other pieces. It didn't take me too long, either, to find a house big enough - at least partly so. Its proportions are to put it mildly very strange!
Jeg gik i gang med at skaffe tapet m.v., og da alt var i hus, gik jeg i stå! Så nu har huset stået et par år og set forfærdeligt ud. Sådan noget pynter jo ikke, og derfor var jeg glad, da jeg for nyligt langt om længe tog mig sammen til at gå i gang med arbejdet. Jeg gjorde ikke så meget ud af det udvendige, der blev malingen bare frisket op. Men jeg havde fundet noget William Morris-tapet, stuktapet til lofterne og stuklister, og jeg har gjort meget ud af billederne, så alt i alt synes jeg da, resultatet er blevet fint.

---
I set to work finding the wallpaper I wanted and all the other stuff - and then I got no further. So for a couple of years the dollhouse has been a sore sight that I have looked at every single day and felt bad about. Accordingly, when recently I finally managed to pull myself together to get to grips with the redecoration work, I was very happy! I didn't do anything to the outside of the house, just adding a new layer of paint, but the inside had William Morris wallpaper, decorative stucco paper for the ceiling, and I had great fun making the pictures for the walls. All in all it's not a bad result, I think.
Først det udvendige. Her er det mest specielle fugleburet på balkonen:

---
First a view from the outside. The most spectacular item here is the bird cage on the balcony:
Så kommer stuen, som har fået bornholmerur, nogle søde gamle træmøbler og en fin broderet pude, en gave fra en svensk veninde, som kan sådan noget. Jeg er også ret glad for blomsterpiedestalen, som faktisk er en gammel beholder til synåle!

---
Next you see the living room. I found a grandfather clock for it, a cute set of old wooden furniture, and special items of pride are the embroidered pillow (a present from a crafty Swedish friend) and the flower pedestal that is in fact an old sewing needle container.
Endelig soveværelset med den seng, der startede det hele! Jeg har fået fortalt, at den er håndlavet af en omstrejfende vagabond i Sverige. Vagabonderne havde ikke lov til at tigge, så de fandt på at have noget at sælge, og det kunne så fx være noget som denne seng, snoet af ståltråd. Den er så fin! Et andet kup er selvfølgelig isbjørnen på gulvet.

---
And finally the bedroom with the bed that started it all. I was told it was made by a Swedish vagabond (tramp); the travelling men were not allowed to beg, so they had the bright idea to craft small items to sell instead. It's made from wire and I find it incredibly beautiful and charming. Another great find is of course the ice bear rug on the floor.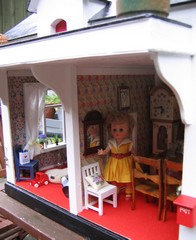 Nu er jeg så færdig - og undervejs er jeg mere eller mindre blevet enig med mig selv om, at et så stort dukkehus i et ikke ret stort rigtigt hus er nok, så det kan være, jeg en dag forsøger at skifte lidt møbler i Villa Ginger og se, om det bliver godt. I så fald skal jeg så af med det nyistandsatte hus, så sig endelig til, hvis du er interesseret.
---
So the redecoration job is over now. And along the way I decided that as our house has limited space, just one doll house would be better. So one of these days I will after all try to refurnish Villa Ginger and see how I like the result.
(Ses bedst i Firefox/Best viewed with Firefox - 1024 x 768)
Til toppen/Top of page
Opdateret d. 12.10.2015