JILL I HÆKLET KJOLE - MEGET USÆDVANLIG

---

JILL IN CROCHET DRESS - SOMETHING QUITE ELSE!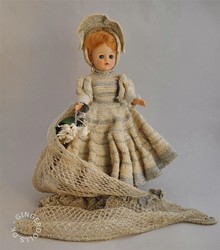 Smukke Jill i sin utrolige hæklede sølvkjole. Der er ikke så meget at sige andet end: Se alle billederne! Nyd dem!
---
Beautiful Jill in her exquisite crochet silvery dress. Not a whole lot to say about this except: Do look at all the pictures! Enjoy the sight!
Til toppen/Top of page
Opdateret d. 12.1.2012

InternetExplorer6 og tidligere er ikke understøttet/IE6 and earlier not supported