DUKKER UDEN MÆRKE
UNMARKED DOLLS
Første umærkede dukke har ben i hård plast, er ellers af vinyl. Har hun mon været sådan fra start eller fået nye ben? Benene er mærket '10½ R'. Hun har meget flot hår, der lader til at sidde som fra fabrikkens hånd, og hun har drejetalje. Øreringene er sandsynligvis originale. Hun kunne godt se ud til at være en umærket Miss Nancy Ann.
Tøjet er i 4 dele, et flot sæt bestående af kjole, skørt, underbukser og hat. Det er ikke mærket, men flot forarbejdet. Skoene er også vintage.
---
The first unmarked doll is made of vinyl with a swivel waist, but her legs are hard plastic and marked '10½ R'. I have no idea if she was 'born' like this or had new legs. Her hair seems to be in its original do and is of fine quality. Her earrings are probably original to her. She does look very much like Miss Nancy Ann and might in fact be an unmarked specimen of this doll.
Her outfit is untagged, but factory made, consisting of dress, half slip, pants and hat. Her shoes are vintage.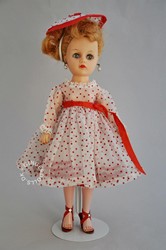 Jeg har ingen anelse om, hvem denne dukke er. Hun er af vinyl, med lige ben og uden drejetalje. Øjnene virker fint, og håret er intakt, det skal børstes opad, men er ikke langt nok til at komme i hestehale. Jeg har ikke kunnet finde nogle mærker på hende, men hun er sød og meget 50'er-agtig, selv om hun nok er en billig supermarkedsdukke. Hun har fået et buksesæt på, som matcher hårfarven fint; jeg har ingen ide om producenten, men fabrikssyet er det.
---
I have no clue as to who this doll is. She's all vinyl, with straight legs and no swivel waist. Her eyes are fine and her hair all there, no missing plugs. She is supposed to have an up-do, although the hair is not long enough to gather in a ponytail. She does not seem to be marked in any way, but she's cute and very 50'ish to look at, even though she probably is a cheap dime store doll. She's wearing a corduroy jeans outfit, factory made, but of unknown origin.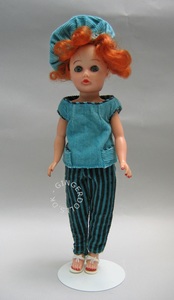 Foreløbig har jeg ikke kunnet identificere denne dukke heller, men der er måske håb forude. Hun er ret karakteristisk med malede vipper under øjnene. I øvrigt er hun af vinyl og har drejetalje. Håret er superflot, så hun er helt sikkert en af kvalitetsdukkerne, ikke en supermarkedsdukke. Kjolen har foret liv og tryklås, der minder om Vogue's: gad vide, hvis det egentlig er.
---
This is obviously a high quality doll, and I am certain that some day I'll be able to identify her. She's all vinyl with a swivel waist and a lovely head of hair. Her dress is factory made, with a lined bodice and the snap fairly reminiscent of the one Vogue used. I have no idea who the manufacturer is?
Heller ikke denne dukke har jeg foreløbig haft held til at identificere, men jeg er ret begejstret for hende alligevel. Hun ser lidt yngre ud end de andre, det er dels selve ansigtet, men også frisuren, som jeg er sikker på er original. Hun har drejetalje og lige ben, og hun er af vinyl af rimelig kvalitet. Kjolen er af ukendt fabrikat, satin med generøs bådformet udskæring.
---
This doll has so far also escaped identification. She's rather good quality, all vinyl with a swivel waist and straight legs. Her looks are more youthful than most of the other dolls, partly because of her face, but mostly because of her cute hairstyle, I think. Her dress is not tagged and probably from one of the many companies offering generic clothing and accessories.
Til toppen/Top of page
Opdateret d. 4.6.2014

InternetExplorer6 og tidligere er ikke understøttet/IE6 and earlier not supported