In English
VIRGA PLAYMATE, TINY TWINKLE, LOLLY-POP, SCHIAPARELLI
For at gå direkte til Lolly-Pop-dukkerne og Tiny Twinkle, klik her
For at gå direkte til Schiaparelli-dukkerne, klik here

---
To go directly to the Lolly-Pops and Tiny Twinkle, click
here
To go directly to the Schiaparelli dolls, click
here
Jeg har efterhånden fået samlet mig så mange dukker, som sandsynligvis er fra Virga Creations, og en del, som kan stamme derfra, at jeg synes, de må have en side for sig selv. De er smukke dukker, meget holdbare (undtagen mht gåfunktionen hos gådukkerne) og med stor garderobe. Af de tidlige produkter er intet mærket, hverken dukker eller tøj, men der findes en del dokumentation, der kan hjælpe. Da dukkerne fik vinylhoved, fik de samtidig mærke i nakken, men tøjet (undtagen Schiaparellis kreationer) var stadig umærket.
Virga Creations startede med at lave dukker i forskellige kostumer, pyntedukker. Siden gik de med på Ginny-bølgen. De første af disse pigedukker, navngivet Playmate, var i hård plast og 'strung', altså samlet med elastik som Miss Rosebud og de tidlige Ginny-dukker, siden blev dukkerne gådukker, senere igen fik de som nævnt vinylhoved.
De kendteste Virgaer er ballerinaen Tiny Twinkle og Lolly-Pop med det pastelfarvede hår - dem har jeg også nogle stykker af og findes nederst på siden. Virga havde endnu flagskib i Schiaparelli-dukkerne, som havde tøj designet af en kendt europæisk modedesigner fra tiden, Elsa Schiaparelli. I denne serie var både tøj og dukker mærkede.
Her på siden er altså de dukker, jeg mere eller mindre sikkert kan sige er Virga'er. Og er de ikke Virga'er, er de rimeligvis type 1 fra Happi-Time, hvilket specielt gælder dem med saranparyk. Der er ikke mange af de ældste Playmate-dukker her på siden, for de er faktisk ikke til at skelne fra Joanie fra firmaet PMA, så de er ofte havnet her.
Først tager vi dukkerne helt i hård plast.
---
My collection of dolls from Virga Creations seems to be growing all the time. I adore these beautiful dolls - they have usually survived very well, in fact often better than either Ginny or Ginger (except for the walkers' ability to walk). They had a lot of beautiful clothes, and the documentation for these is rather extensive, so that identification is made easier in spite of missing identifying marks and tags (only the vinyl-headed dolls were marked - and only the Schiaparelli clothing).
The most famous Virga dolls are of course the Lolly-Pops and the Tiny Twinkle ballerina with their different hair colours; I have some of these, too (at the bottom of the page). The Schiaparelli line with outfits designed by European designer Elsa Schiaparelli is also very popular among collectors.
So this page is dedicated to the dolls I know or believe to be Virgas (apart from one found together with a PMA Joanie in this page). If they are not Virgas, they may be Happi-Time dolls type #1 - this goes for the ones with saran wigs. Virga Playmates type #1 (the strung, early HP dolls) are as often as not to be found in this page, as they are practically impossible to distinguish from PMA's Joanie dolls.
I'll post the all hard plastic dolls first.
Så er turen kommet til dukkerne med vinylhoved, som Virga jo også gik over til at bruge. Samtidig med Schiaparelli serien blev der også produceret en serie almindelige dukker, igen kaldet Playmate. De to typer er meget svære at skelne fra hinanden. I flg. Carol J. Stovers bog om de små dukker er de almindelige Virgaer ikke gådukker, men Schiaparellierne er. Jeg er nu ikke sikker på, det stemmer - alle mine dukker med vinylhoved er eller har været gådukker, så vidt jeg kan skønne. Der kan også være lidt anderledes arme på nogle af Schiaparelli-dukkerne, men det eneste, der i visse tilfælde lader en skelne mellem dem med sikkerhed, er hårfarven: Dukkerne med grønt, pink og lign. kulørt hår er i hvert fald Schiaparelli-dukken Go-Go. Playmate havde, igen iflg. Stover, rødt, brunt eller blondt hår i hestehale eller flip. Go-Go havde som sagt ofte pastelfarvet hår, i høj hestehale, flip eller i etageklip.
Go-Go havde en søster, som var ballerina, altså med tåspidsfødder (og uden de sædvanlige støbte sko), hun blev kaldt Tu-Tu og havde også pastelfarvet hår.
---
And now for the vinyl-headed dolls. Virga still carried their ordinary Playmate dolls, but now also the Schiaparelli line consisting of the ordinary Go-Go and her ballet-dancing sister Tu-Tu (who has toes, no molded shoes). The Playmate and the Schiaparelli dolls are very hard to tell apart, both being marked Virga on the neck. In her book, Carol J. Stover claims that the Playmate dolls were not head-turning walkers, whereas Go-Go was. I'm not quite sure about this, all my vinyl-headed dolls seem to be or at least have been walkers. The only definite way to tell some of the dolls apart is the hair colour. The Schiaparelli dolls often had colourful hair: green, pink, etc. in ponytails, flips or short bobs. The Playmates had (according to Stover) brown, blond or red hair in a ponytail or a flip. Go-Go had a ballet-dancing sister, Tu-Tu, with real toes instead of molded shoes and again coloured hair.
Men gad vide, om Virga også lavede dukker, som de lod andre firmaer sælge? Jeg har i hvert fald fundet en del dukker, som ligner Virga'er utroligt meget, men de er ikke mærket i nakken. Nogles hår er af ringe kvalitet, mens andre hvad håret angår sagtens kunne gå for at være ægte. Nedenfor et billede af to af disse umærkede dukker; dukken til højre ligner fuldstændig en Virga eller Schiaparelli, mens den til venstre har sølle hår.
---
The fact that I found quite many dolls that look just like a Virga, but don't have the Virga stamp on the back of their head makes me wonder if Virga also produced clones to be sold by other companies, just like Cosmopolitan? Some of the dolls I've seen have poor hair, but others have hair that could easily pass as Virga hair. Below a picture of two of these unmarked dolls; the doll on the right looks like a Virga or Schiaparelli in every way, whereas the one on the left has very poor hair.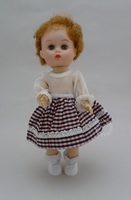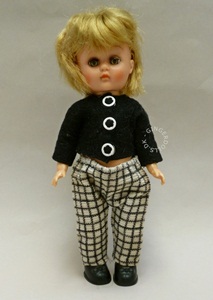 Jeg har også nogle af de mere specielle Virga-dukker - en balletdanser, Tiny Twinkle, og en del forskellige Lolly-Pop dukker med alle mulige hårfarver. Disse dukker er generelt ret dyre, og jeg har ikke syntes, jeg ville eller kunne betale priserne, så mine dukker er ikke i så fin stand. Fx er de næsten alle ret slappe i koderne, hvilket ellers er ret sjældent for Virgaer. Men med et stativ står de jo alligevel fint. De færreste havde den originale kjole på, da jeg fik dem, dem har jeg siden fundet og købt. En del af dem havde også mistet hårpynten, til dem har jeg efter bedste evne og med de materialer, jeg har, lavet ny pynt.
Disse dukker har ikke deres egen side, da der ikke er så meget mere at sige om dem.
---
I also have a few of the rarer Virga dolls, a ballerina called Tiny Twinkle and quite a lot Lolly-Pop dolls with all shades of hair. My dolls are very far from mint! I have not wanted to or been able to afford to pay the price these dolls usually are sold for. So many of them are wobbly, but with a stand they will keep upright. Only few of them were dressed in their original dress when I found them, so I have been hunting down the dresses afterwards (and still need one green one, as will be seen). Many also lost their hair flowers, but I have tried to make them new ones with vintage flowers.
These dolls do not have their own page, as there really is nothing more to say about them.
Til toppen/Top of page
Opdateret d. 10.11.2012

InternetExplorer6 og tidligere er ikke understøttet/IE6 and earlier not supported