MISS NANCY ANN
Miss Nancy Ann er igen af ren vinyl, med lige ben og drejetalje. Dukkerne her er mærket Nancy Ann i nakken, men der var også umærkede dukker. Højden er som for alle mine fashiondolls 27-28 cm.
---
Miss Nancy Ann is like all these fashion dolls 10.5-11 inches tall, all vinyl, with straight legs, a swivel waist and usually a very nice head of hair.
Første dukke er nærmest rødhåret, og godt nok sad hendes hår ikke som fra fabrikkens hånd, men jeg fandt ud af, at hun nok ikke har haft håret i hestehale, men derimod i den anden langhårsfrisure, dukken kunne fås med, på engelsk kaldet French Twist. Jeg har forsøgt efter bedste evne at genskabe denne frisure på hende. Hendes øjne er herligt brune, hvilket egentlig er det, jeg først faldt for. Jeg har ved at bytte med en veninde i USA fået denne pragtfulde, originale kjole (med tilhørende skørt og bælte) til hende, og nu er hun, trods en manglende ørering, fantastisk at se på.
---
This first doll has auburn hair and brown eyes - a true beauty. Her longish hair was not really bad, and I found out she probably was a French Twist girl. Miss Nancy Ann seems to have come with three different hair-dos, short bob, ponytail and the French Twist. I have done my best to re-establish the Twist. I did a nice trade with a US friend and have thus been able to dress her in a beautiful original dress (complete with slip, belt and shoes). She looks very pretty now, even though one ear ring is missing.
---
The second doll is a blonde and a ponytail girl. I believe her earrings are the original ones. I also managed to find her an original dress (with slip and shawl), and with her radiant face she's well worth looking at, too.
---
A third doll is a bit special: The name stamped on the back of her neck has been scraped off almost completely, so presumably the doll was sold to be marketed under another name - as a cheaper brand, I would say judging by her hair, which is nowhere as abundant as on a genuine Miss Nancy Ann. However, her face is as beautiful as that of her sisters. Her body has suffered quite a lot from being played with; it seems the vinyl was painted (which I've seen on various other dolls as well), but the paint is missing from several areas of her body. However, this is hidden by her elegant suit of clothes, which may be mommy-made, but one of my favorite outfits anyway. The shoes are new ones.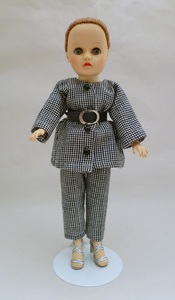 Blandt
mine umærkede dukker
er et par stykker, som jeg er ret sikker på også er umærkede Miss Nancy Ann-dukker.
---
Among
my unmarked fashion dolls
are a couple of dolls that are most probably unmarked Miss Nancy Ann dolls.
Til toppen/Top of page
Opdateret d. 5.3.2013

InternetExplorer6 og tidligere er ikke understøttet/IE6 and earlier not supported